CURRENT ISSUE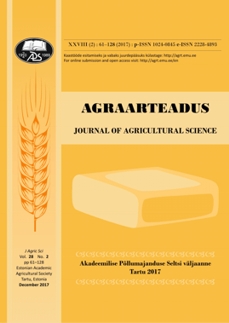 JOURNAL AIM AND SCOPE
Agraarteadus : Journal of Agricultural Science  accept original research of both local and international dimensions from all fields of agriculture (including: forestry, plant science, nature conservation, environmental sciences, veterinary medicine, engineering). Particularly multidisciplinary research is considered by the journal.
Specific topics of particular interest are investigations addressing issues of sustainability and investigations that generally aids practical implications of a balanced and wise management of rural life. Submissions that aids the understanding biodiversity issues are welcome.
MANUSCRIPT TYPES ACCEPTED
PUBLISHER
Publisher: Estonian Academic Agricultural Society
Editor in Chief: dr. sc. agr. Alo Tänavots
Address: Fr. R. Kreutzwaldi 1, 51014 Tartu, Estonia
E-mail:
License:
This work is licensed under a Creative Commons Attribution 4.0 International License .