AGRAARTEADUS
CURRENT ISSUE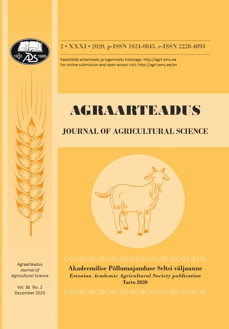 JOURNAL AIM AND SCOPE
Agraarteadus | Journal of Agricultural Science invites scientific articles for publication in the agricultural field. Particularly welcome are papers presenting multidisciplinary research. We encourage submissions of local interest in the agricultural sector of the Baltic Sea region. Additionally, articles investigating practical applications to improve the efficiency, profitability, sustainability, biodiversity and management of rural life in any of its aspects.
Agraarteadus is engaged to preserve and develop scientific vocabulary and terminology in a variety of disciplines in the local language. 
MANUSCRIPT TYPES ACCEPTED
PUBLICATION FREQUENCY
Journal is published biannually. Volumes per year will be published in June and December.
PUBLICATION CHARGES
There are no handling or page charges.
PUBLISHER
Publisher: Estonian Academic Agricultural Society
Editor in Chief: DSc (agriculture) Alo Tänavots
Address: Fr. R. Kreutzwaldi 1, 51006 Tartu, Estonia
E-mail:
Indexed: AGRIS, DOAJ, EBSCO, ICI World of Journals, SCOPUS etc.
ETIS: "1.1. Scholarly articles indexed by Web of Science Science Citation Index Expanded, Social Sciences Citation Index, Arts &
Humanities Citation Index, Emerging Sources Citation Index and/or indexed by Scopus (excluding chapters in books)" (since 2018).
DOI: A digital object identifier (DOI) assigned to all research articles published in the Agraarteadus.
License:
This work is licensed under a Creative Commons Attribution 4.0 International License .
Supporters: Estonian University of Life Sciences, Estonian Crop Research Institute